Mortgage with CCJs
If you have had a CCJ issued against your name, it is likely you will encounter problems getting a mortgage from the majority of the high street lenders. A mortgage lender will take CCJs into account when deciding whether to grant a mortgage. Some mortgage companies will not take on any applicants with CCJs against them while some lenders will consider cases where judgements were a few years ago, or where the sums involved were small. Other lenders will agree a mortgage, but only at more higher rates of interest. The key is getting the right advice. As specialist mortgage brokers we can advise you of your options and know which lenders are likely to be more approachable. Whatever your circumstances, simply complete our quick no obligation enquiry form and we'll let you know whether we can help.
Registry Trust Ltd is a non profit-making company that the government set up to take care of the statutory public register of county court judgments and administration orders from county courts in England and Wales. The registry passes the details of all these judgments to credit reference agencies so they will show up when a lender undertakes a credit search.
If you have any county court judgements (CCJs) to your name, it may take some time to have these removed from your credit file. The CCJ will remain on file until six years after the original court case but the debt can be marked as "satisfied" if you had paid it off. For this you'll need to ask the court for a Certificate of Satisfaction and present it before a credit reference agency will update your file to show that the CCJ has been "satisfied". This is an important step as it will tell lenders that you have cleared the debt. If you don't pay off the debt, it will show as unsatisfied.
The likely outcome of a mortgage application will depend on the severity of your past problems and the time that has passed since the CCJ was issued. A CCJ for a small amount of money issued 5 years ago is less likely to jeopardise your chances of getting a mortgage than a CCJ for a relatively large sum of money issued in the previous 12 months.
Whatever your credit history, click here to contact a broker today.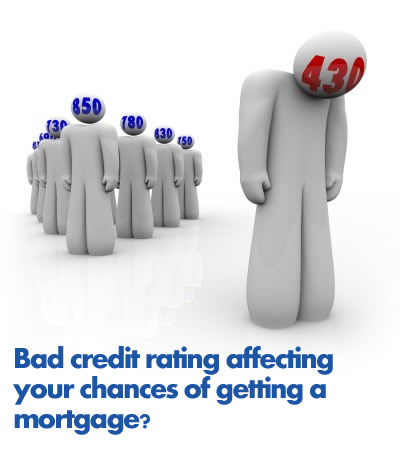 Contact us for a free mortgage quote